During cervical screening a small sample of cells is taken from your cervix for testing.
The test itself should take less than 5 minutes. The whole appointment should take about 15 minutes.
In many GP practices and clinics, you will be able to:
ask for a female GP or nurse to take your screening test
have a friend or family member in the room with you
You will be asked to wear a mask during your appointment.
Before your cervical screening test
It's useful to bring your Personal Public Service (PPS) number with you. This will help us to make sure we identify your correct records so that we can keep them up-to-date.
Before starting, the GP or nurse should explain what will happen during the test.
You should be told:
that your sample will be tested for HPV first – this is because of HPV cervical screening
the benefits and limitations of screening
the screening test process
how your data will be shared
to sign a consent form
If you have never had penetrative sex, you may find the test uncomfortable. Discuss this with your GP or practice nurse. They are there to help you feel comfortable.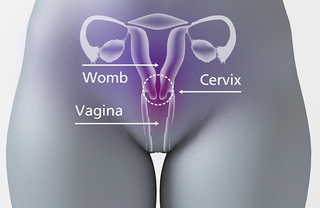 How cervical screening is done
You will need to undress from the waist down and lie on a bed. You can usually remain dressed if you're wearing a loose skirt.
The GP or nurse will ask you to lie back on a bed, usually with your legs bent, feet together and knees apart. You can lie on your side if it's more comfortable for you.
They'll gently put a smooth, tube-shaped tool (a speculum) into your vagina - this holds the walls of the vagina open. A small amount of lubricant may be used.
The nurse will open the speculum so they can see your cervix.
Using a soft brush, they'll take a small sample of cells from your cervix.
The GP or nurse will remove the speculum and leave you to get dressed.
They will put the sample in a pot to send to a lab.
The lab will check the sample for HPV first. If HPV is found, the sample will also be checked for abnormal cells.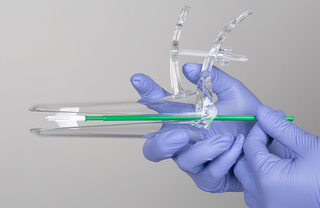 Some women find the screening test slightly uncomfortable or embarrassing, but for most women it's not painful.
If you find the test painful, tell the GP or nurse as they may be able to reduce your discomfort.
Information:
You can ask the GP or nurse to stop at any time.
Things that can make the test easier
Things you can try that might make the test better for you include:
wearing something you can leave on during the test, like a skirt or long jumper
bringing someone with you for support
taking slow, deep breaths to help you relax
asking the GP or nurse to use a smaller speculum
asking the GP or nurse about lying in a different position
Things to look out for after cervical screening
You may have some spotting or light bleeding after your test. This is very common and should go away in a few hours.
Non-urgent advice:

See a GP if you have:
heavy bleeding after cervical screening
any bleeding after cervical screening that does not stop after a few hours
Giving your consent
You'll be asked to give consent each time you have a screening test by signing a form called a cervical screening form.
You'll be given the form at your appointment. You should be given time before your screening test to read it.
If you would like to see the form, you can download the cervical screening form (PDF, 3 pages, 500KB).
Only you can give your consent.
This is to confirm that you:
have been told about cervical screening and its benefits and limitations
understand this information
have checked that your name, address and other details are correct
allow us to receive, hold and exchange your personal information with those who deliver the programme
If you cannot sign the form, you will be asked to give your consent either verbally or by making a mark on the form.
You can withdraw your consent at any time. Contact us on freephone 1800 45 45 55 or email: info@cervicalcheck.ie.
Informed consent
Before signing the form, ask your GP or nurse any questions you have. This will help you give informed consent.
You should understand:
the benefits and limitations of screening
the possibility that your sample may also be tested for abnormal cells
the likelihood and meaning of a normal result
what it means if you are called back for further tests
when and how you will get your result
how your data will be shared with those delivering the programme
Most of this information will be given to you with the consent form. The information is also on this website.
Only sign the consent form when you feel you have all the information you need to make an informed decision.