A face mask is a material you wear that covers your nose and mouth. It is also called a face covering. Wearing one helps stop the spread of COVID-19 (coronavirus), especially from people who do not know they have the virus.
There different types of face coverings, masks and visors
If you wear a face mask, you still need to do other things to protect yourself and others from COVID-19.
When you should wear a face mask
By law, you must wear a face covering:
on public transport
in shops, shopping centres and other indoor settings, including cinemas and salons
in banks, posts offices and credit unions
You should also wear a face mask:
when staying 2 metres apart from people is difficult
in healthcare settings – this includes hospitals, GP surgeries, care settings, nursing homes and dental practices
when visiting anyone who is more at risk from COVID-19
in crowded workplaces, places of worship and busy outdoor spaces
Most people should wear a face covering in these situations but there are some people who should not or do not have to wear face masks.
How to properly wear a face mask
COVID-19 is mainly spread through droplets that come from your nose and mouth. For example, when you cough, sneeze or talk loudly. It can also be spread by smaller particles (aerosols).
Wearing a face mask that covers your mouth and nose reduces the spread of these droplets and aerosols. 
Do
clean your hands properly when you put on and take off your face mask

cover your mouth and nose and make sure there are no gaps between your face and the mask

remove it from behind - do not touch the front of the mask

carry unused face masks in a clean sealable bag such as a ziplock freezer bag, paper bag or cloth bag

carry a second similar type bag to put used face masks in
Don't
do not touch your face mask while wearing it – if you do, clean your hands properly

do not use a wet or soiled face mask

do not share face masks

do not lower your face mask to speak, eat, smoke or vape

do not throw away face masks in public places – you risk infecting others

do not put single-use masks in a recycling bin – they cannot be recycled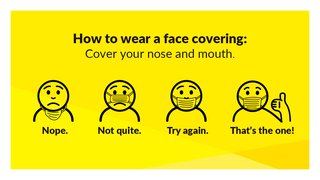 Read how to stop your glasses fogging up

If you wear glasses and a face mask, your glasses may fog up.

Cleaning your glasses makes them less likely to fog up.

A well-fitting face mask can also stop your glasses fogging up. It should fit tightly enough to not leave any gaps around your nose.

Place your glasses on top of the seal of the face mask to try to stop your breath reaching up to your glasses. If you cannot do this, try using a small piece of surgical tape to seal the face mask to your face at the gap under your glasses.
When to wear a medical face mask
A medical face mask is a blue disposable type of face mask. It gives you better protection from COVID-19.
Wear a medical face mask instead of a cloth face mask if you are at higher risk from COVID-19. For example, if you are over 70 years of age or you have an underlying conditon.
Wear a medical face mask at home if you:
have symptoms of COVID-19
have tested positive for COVID-19 - you still need to self-isolate (stay in your room)
are living with someone who has COVID-19
are caring for someone who has COVID-19
If you have any symptoms of COVID-19, self-isolate (stay in your room) and get a COVID-19 test.
Read about the different types of face coverings, masks and visors
Who should not wear a face mask
You do not have to wear a face mask if you have an illness or impairment that would make wearing a face mask difficult.
Face masks are not recommended for anyone who:
has trouble breathing
is unconscious or incapacitated
is unable to remove it without help
has special needs and who may feel upset or very uncomfortable wearing them
needs to communicate with someone who has learning difficulties, is hard of hearing or deaf
Wearing a visor will give these people some protection. But cloth face masks are a better way to protect yourself from COVID-19.
Some workplaces or schools may ask for a medical certificate. But in general, you do not need to ask for a letter from a GP about your reason for not wearing a face mask.
Children and face masks
Face masks are not recommended for children under the age of 13 unless they are in secondary school.
Some children under 13 may choose to wear one. They may also be asked to wear one when attending a hospital clinic or GP surgery.
Storing face masks
Store your face mask at home in a dry, breathable bag to keep it clean between use.  For example, a paper or cloth bag.
Washing cloth face masks
Wash your cloth face mask whenever it gets dirty or at least every day.
You do not need to sterilise face masks. Wash them in a washing machine or by hand.
When to throw out a face mask
Throw out a reusable face mask if it:
no longer covers the nose and mouth
has loose or damaged ties or straps
does not stay in place on your face
has holes or tears in the fabric
Throw out medical face masks after you wear them once. Do not wash or reuse them.
Last updated: 19 November 2021 12.20pm