A face covering is a material you wear that covers your nose and mouth. Wearing one helps stop the spread of COVID-19 (coronavirus), especially from people who don't know they have the virus.
Cloth face coverings
Cloth face coverings are the type of face coverings most people should wear in public settings.
They are made from cloth materials such as cotton or silk. Cloth face coverings should have at least 2 layers of fabric.
You can buy them or make them at home using items such as scarfs, t-shirts, sweatshirts, or towels.
Read about how to make a face covering on the CDC website.
Disposable masks
Like cloth face coverings, disposable masks should cover your nose and mouth. They should be thrown away after you wear them once and you should not wash or re-use them.
Follow the advice on how to safely throw away a single-use mask.
Visors and face shields
Visors are not the best option for protecting yourself and others from COVID-19.
Visors may stop some spread of droplets from your nose or mouth. This is better than not wearing any face covering. But visors should only be worn if you have an illness or impairment that makes wearing a face covering difficult.
Read more about who may be advised to wear a visor.
How to wear a visor
The visor should wrap around the sides of your face (ear to ear) and extend to below the chin. Reusable visors should be cleaned after each use and then stored in a clean place until needed.
You should still wear a mask if you:
have COVID-19, think you have COVID-19 or are waiting on a test result
are caring for someone with COVID-19 or who has symptoms of COVID-19
are self-isolating and you cannot keep 2 metres between you and other people in your household
Read more about how COVID-19 is spread.
Medical face masks
Medical face masks are for healthcare workers. Some workers in specific jobs also use them. Medical masks are vital supplies.
They are not intended for use by the general public unless you are in self-isolation and cannot keep a distance of 2 metres between you and other people in your household.
Read more about what to do if you live with other people and you are self-isolating.
Wear a cloth face covering when shopping and on public transport. This will help to make sure that medical face masks are kept for those who really need them.
Face coverings with valves or vents
Do not wear a face covering if it has a valve or vent.
These type of face coverings are not good for reducing the spread of the virus. This is because you could breathe in or breathe out the virus through the valve or vent.
Construction workers and tradesmen normally use them to protect against dust. They are not designed to stop the spread of a virus.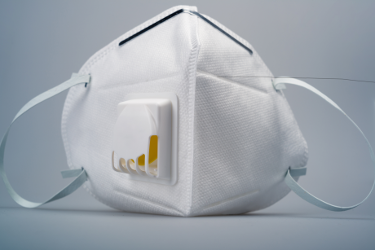 Related topics
Protect yourself and others from COVID-19
Shopping safely during the COVID-19 pandemic
Disposable gloves and COVID-19
Last updated: 23 November at 12.10pm