Manual scooters for children under the age of 14 are meant only to be used as playthings. They are made and designed this way. Because of this, they are seen as 'ride-on' toys by EU safety authorities. Ride-on toys are play things. They include rocking horses, a child's bike or scooter.
They are not built to be used as transport or for sport. Your child should not use them on public footpaths, pathways or roads.
Manual scooters are scooters that do not have a motor or battery.
How to tell if your child has a toy scooter
All toy scooters should have a CE safety mark. If your child's scooter has this CE mark, it is intended to only be used as a toy.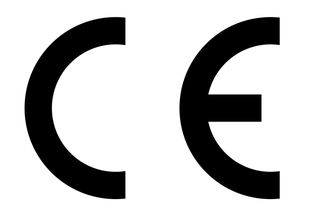 All toy scooters must have the manufacturer's name, address and contact details. These should be visible on the scooter.
If the scooter's maximum user weight is 50kg or less, it is most likely a toy scooter and should not be used on public paths or roads.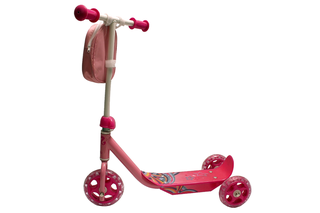 Kick scooters
Kick scooters are not toys. They are intended to be used in competitive sport.
They are designed to be stronger and last longer. Unlike a toy scooter, they can be used by children heavier than 50kg.
A kick scooter will not have a CE safety mark. But it should have warning labels. Make sure it is also suitable for your child's age.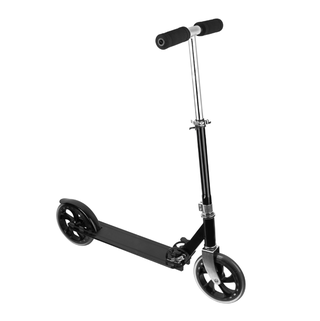 Child safety when using scooters
To reduce the risks to your child, make sure they:
never use their scooter on the road
are always supervised by an adult
always wear a helmet that fits
wear protective equipment that fits, including knee, wrist and elbow pads
use a scooter that is suitable for their weight, age, height and stage of development
have been taught how to use the scooter by a responsible adult, including how to brake
are not wearing loose clothes, laces or strings that could lead to an injury
Younger children and those learning how to use a scooter are most at risk of injuries. Common injuries include falls, cuts and bruises.
There's also a risk they'll get their fingers caught if the scooter has a folding mechanism.
Using scooters in public areas
Toy scooters are not intended to be used on public pathways or footpaths.
Important
Never let your child ride their scooter on the road or in traffic
Always make sure an adult is closely supervising your child. 
Do not allow your child to use their toy or kick scooter in places where there are lots of people walking. This is to avoid collisions.
Make sure the surface they use their scooter on is level.
Watch out for:
broken or uneven areas
slippy and wet surfaces
hazards such as manholes, tracks and drains - the scooter wheels could get stuck and cause injury to your child