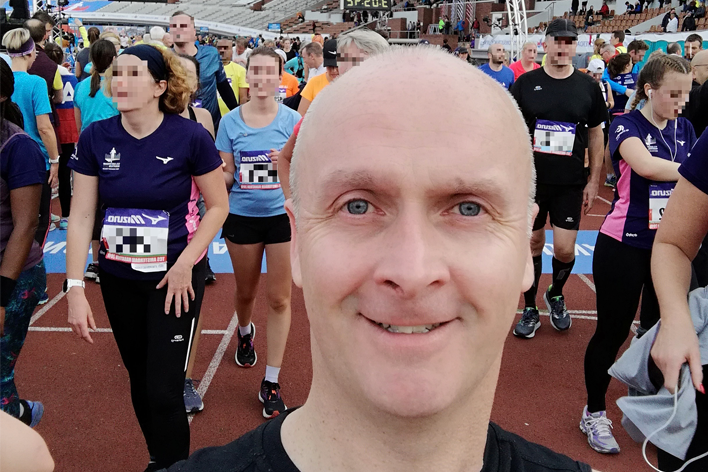 Clonakilty man, Alan Lowney started smoking when he was a teenager. He smoked fifteen to twenty cigarettes a day for 27 years and more at the weekends.
Taking up running and getting more physically active encouraged Alan to try quit again.
He had tried to give up smoking a few times over the years. He used different methods like willpower and nicotine patches but he says that deciding to make a plan to quit and get help from the Quit Team helped him finally quit for good.
"I took up running 5 years ago and after running for a few years decided to quit smoking. Getting help to quit made a big difference and the calls from the Quit Team to check in with how I was doing after a week and month really helped me keep going", Alan said.
Alan signed up for telephone support for the Quit Team experts. Having calls from the Quit Team during his first few weeks of quitting helped and encouraged him to keep going. He also signed up for an online Quit Plan at www.quit.ie where he could track his progress and get tips and tools to help him.
"I still log on to my Quit Plan every now again to see how long I have been off cigarettes and how much money I have saved by not smoking. The longer I have been quit, the less I log on but when I checked recently, I realised that I would be running my first half-marathon in Amsterdam on the my 1000th day as a non-smoker.
I had always had a goal of doing something like a half-marathon and not smoking anymore has helped me reach my goal. Two of my friends and I registered for the Amsterdam half-marathon in January and it's the longest race I have done to date."
Alan's advice to anyone who is thinking about quitting is to plan for it and to get help from the Quit Team.
"Making a plan gives you the best chance of succeeding and getting practical help to quit makes all the difference".
You can sign up for a Quit plan with tools, tips and resources to help you quit here quit.ie. You can also call the Quit Team on 1800 201 203.