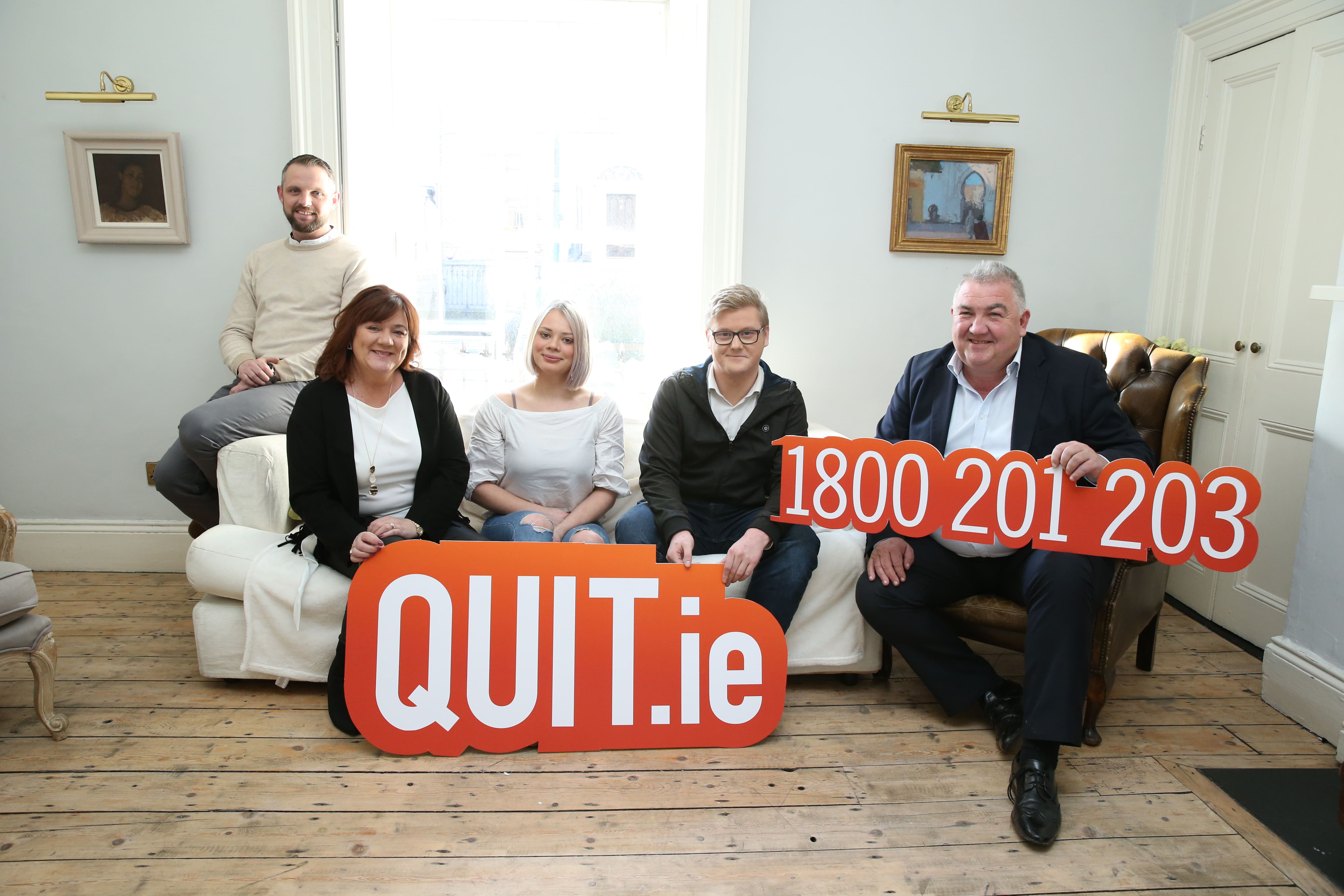 If you can quit smoking for 28 days, you are five times more likely to quit for good. Starting from the 2 March people who smoke all over Ireland will be taking the 28-day challenge.
Take advantage of the free support available from HSE Quit including a Quit Kit, daily messages or phone calls, an online Quit plan, face to face support from their local Stop Smoking Advisor and daily tips on the You Can Quit Facebook page.
We will also be holding a Quit Roadshow where you can get the information you need to help you quit. Stop by and talk to the Quit Team in the locations below:
Friday, 28 February Scotch Hall, Drogheda
Sunday, 1 March, McDonagh Junction, Kilkenny
Saturday 29 February, Quayside Shopping Centre, Sligo
Saturday, 7 March, Bridgewater Shopping Centre, Arklow
Sunday, 8 March, Pavilions Shopping Centre, Swords, Co. Dublin
This March, our Quit Leaders be quitting smoking with support from HSE Quit and sharing their journey. You can follow their progress on here Quit.ie.
Each of our Quit Leaders will be following their own personalised Quit Plan, with the goal of kicking the habit for good. We'll be checking in with them all over the next few weeks but first let's introduce the Quit Leaders:
Brandon Furlong, 26, Sligo
Brandon has been smoking since he was 15 years old. He's giving up now because he is asthmatic and has noticed it flaring up more than usual recently. He is on the panel for the ambulance service and wants to get back to peak physical condition.
He says, "I have been down this road a couple of times and I know how hard it is to stay on course, this time I know I can do it and help others too."
Claudine Woods, 49, Dublin
Claudine is a 49-year-old mother of two from Swords, Co. Dublin. She desperately wants to quit so she can see her kids grow up.
She says, "My main reasons for quitting are my two children. I want to be around for them and hopefully grandchildren. I think I'd be a great role model for anyone else trying to give up, if being a Quit Leader gets me off the smokes it can get everyone off."
James Donegan, 40, Wexford
James quit smoking at the start of February - having been a heavy smoker for 25 years. He has tried quitting before, but feels like this time is different and wants to use the HSE Quit supports to help keep him on course.
He says, "Smoking is horrible, smelly and unhealthy. I want to see my kids grow up and enjoy them and, hopefully, some grandkids. If I can do it, anyone can. I don't like to let people down. If people are looking to me for strength, they too will be my strength."
Dasha Osipova, 26, Gorey
Dasha is a mother and store assistant living in Gorey, Co. Wexford. She has been smoking since the age of 12, and recently she's had to confront the serious negative impact smoking is having on her health after a smear test showed evidence of pre-cancerous cells.She says, "I want to quit smoking for my health and my daughter. I'm looking forward to having support and being a Quit Leader."
John Kierans, 57, Louth
Editor-in-chief of the Irish Mirror, John has been smoking since the age of 15 and has tried to quit numerous times – once even managing to stay off cigarettes for two years before taking up the habit again. This time around, he will be supported by the HSE Quit team and has high hopes for success.
He says, "I want to quit smoking to get my breath back, I want to get back out walking and feel the air again. I feel this time I will crack it and stay off them for good."