Published: 3 July 2019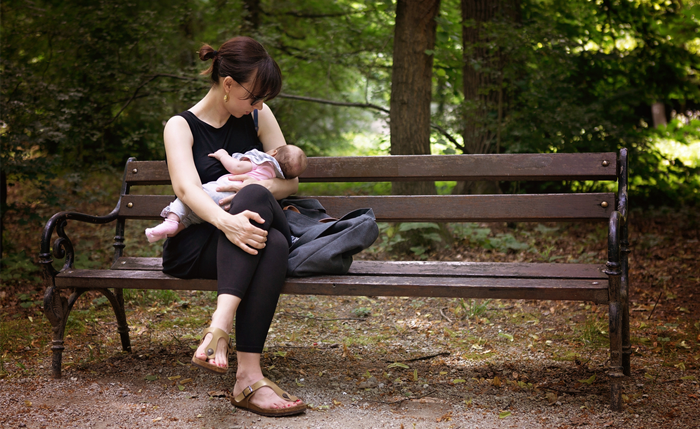 Breastfeeding is the healthiest way to feed your baby. Breast milk has the perfect mix of vitamins, protein and fat - everything your baby needs to thrive. It's easy to digest and contains antibodies that boost your baby's ability to fight illness and infection. 
Breastfeeding is good for mothers too as it lowers your risk of a number of cancers, including breast and ovarian cancer. Breastfeeding burns calories so it may help you reach and maintain a healthy post-pregnancy weight.
Breast milk is also the ultimate convenience food. Once you and your baby get into your own rhythm, you can feed them quickly with minimal fuss. 
Read more about the benefits of breastfeeding.
When breastfeeding doesn't come easily
Breastfeeding can be a wonderful experience but it can be challenging. 
What if your baby isn't latching on well? Or maybe you are finding it painful? Are you worried your baby isn't getting enough breast milk? 
Laura McHugh, National Breastfeeding Coordinator says, "Becoming a new parent is an exciting milestone but it can also be overwhelming. Breastfeeding is a unique experience for all mothers and babies. It takes patience and practice to find a rhythm that works for both you and your baby.  It's important to realise you are not alone if you experience challenges along the way. Getting the right support goes a long way in helping mothers to breastfeed for as long as they wish."
Ten breastfeeding tips
Prepare before your baby arrives
Get information about breastfeeding before you give birth. Attending antenatal classes, talking to your midwife, and visiting a breastfeeding support group near you will help prepare you for breastfeeding.
Correct positioning and attachment
This is also known as getting a good 'latch.' Positioning and attachment is the most important way to prevent discomfort and ensure your baby is feeding well. Your midwife or public health nurse can help you try different breastfeeding positions and give you advice.
Ask for help
Support is important for all mothers in the early weeks after their baby is born. Partners, family and friends can help in many practical ways such as changing the baby, cooking and housework.
Read about how you can care for your partner when she first starts breastfeeding.
Get comfortable
You should feel comfortable while breastfeeding. In the beginning, you may feel discomfort at the start of a feed. When your baby is attached deeply to your breast, this temporary tenderness should reduce after the first couple of weeks. 
Read about the causes of sore nipples when breastfeeding.
Relax and be patient 
Once you and your baby have learned the skills of breastfeeding, it becomes easier every day. Try to focus on one breastfeed at a time and remember every day of breastfeeding makes a positive difference for your baby.  
Eat well and stay hydrated 
Breastfeeding mothers need to eat a healthy, varied diet and keep hydrated. Your partner and family can help out by preparing nutritious meals and snacks.
Follow your baby's lead
There's lots of information out there about newborn routines and feeding schedules. When you are trying to establish breastfeeding, following your baby rather than the clock is key. As you get to know your baby's cues for feeding and comfort, you will settle into your own rhythm together.
Learn to recognise the signs that your baby is hungry.
Know that your baby is getting enough milk
A common worry among new mothers is whether their baby is getting enough milk. By knowing how many wet and dirty nappies you should expect, you can tell if your baby is getting what they need.
Learn how to tell if your newborn is getting enough breast milk.
Take care of yourself
Let your partner, family and friends help you to take care of yourself and your baby. If you have older children, remember that you still need plenty of rest and care. Read these tips on caring for older children when breastfeeding.
If you are feeling overwhelmed or anxious, talk to your partner, your family and your public health nurse or GP. 
Do your best 
It can be a stressful and emotional time if your breastfeeding experience is not as you had hoped it would be. Motherhood is a steep learning curve and things often work out differently than you planned. 
Trying to breastfeed is something to be proud of, whether your journey is for one day, one week, or 6 months and beyond. 
Getting support
If you have specific breastfeeding concerns you can contact our qualified lactation consultants. Live chat with breastfeeding experts between 10am and 3pm every weekday.