Published: 11 December 2019
It's responsible for 1 in 8 breast cancer diagnoses.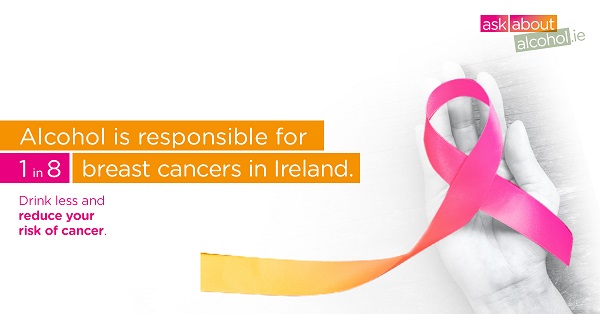 WHEN WE THINK ABOUT alcohol in Ireland, it often tends to be closely linked to its positive aspects – relaxing with wine at dinner or drinking pints watching the match. However we don't often talk about the negatives – which can include some pretty sobering health risks.
What you may not realise is that alcohol is a confirmed carcinogen – meaning it is known to cause cancer. The National Cancer Control Programme (NCCP) reports that 900 cancers cases in Ireland are attributed to alcohol and around 500 people die from these diseases every year.
And the truth is that the more you drink the higher your risk – cancer risk is related to drinking alcohol whether you drink a lot in one night or whether you spread your drinks out over a week. Here are the facts we know about alcohol as a carcinogen.
1.  Alcohol causes 1 in 8 breast cancers in Ireland
Possibly the most stark of all of these facts. And if you didn't realise that alcohol can cause breast cancer, you're not alone: according to the HSE, only 27% of women are aware that their risk of breast cancer increases as a result of heavy drinking.
For breast cancer and for cancers in parts of the body that come into direct contact with the alcohol – the mouth, throat, voicebox (larynx) and oesophagus (foodpipe) – even light regular drinking increases the risk. That risk then increases further the more you have to drink.
2.  Alcohol is a known cause of seven types of cancer
Alcohol is known to increase your risk of developing mouth, throat, voice box, oesophagus, liver, colon and rectum and breast cancer.
This is because alcohol is converted into a toxic chemical called acetaldehyde, which damages DNA and stops our cells from repairing this damage.
Alcohol also weakens the body's ability to break down and absorb a variety of nutrients that may protect you against cancer. These include vitamin A, folate, vitamin C, vitamin D and vitamin E.
Lastly, it increases the levels of some hormones in the body, such as oestrogen, which particularly increases the risk of breast cancer.
3.  Women are at a higher risk of harm from alcohol than men
Unfortunately, women have a higher risk of health problems from alcohol than men and the problems are likely to start earlier. This is because women's bodies absorb alcohol faster than men's.
If a woman drinks the same amount as a man, the alcohol in her blood will be more concentrated because she has less body water to dilute the alcohol than a man does. Women also have a higher proportion of body fat, which does not absorb alcohol as well as muscle and have fewer of the enzymes that break down alcohol.
4.  If you drink and smoke, your chances of getting cancer of the mouth, throat or oesophagus are far greater
If you smoke as well as drink alcohol, your risk of certain cancers is even higher. Cigarette smoke contains over 70 cancer-causing chemicals. When it's mixed with alcohol, it increases the chances of developing certain cancers more than alcohol or cigarettes by themselves.
Because alcohol is a solvent, it makes it easier for these harmful chemicals to enter the cells lining the mouth, throat, larynx (voicebox) and oesophagus (foodpipe), leading to higher rates of cell changes and greatly increasing the risk of cancer developing there.
5.  Sorry but there's no evidence that red wine helps prevent cancer
It's a commonly-held belief that wine, particularly red wine, is somehow better for you than other types of alcohol. But the reality is that your body can't tell the difference between different types of alcohol such as wine, beer or spirits. It's how much alcohol you drink that matters, not what you drink.
6.  The less you drink, the lower your risk of developing alcohol-related cancers
Drinking within recommended limits dramatically reduces your risk of harm from alcohol, and the less you drink, the lower the risk to your health.
For healthy females aged 18-65, the low-risk guidelines are currently 11 standard drinks (110 grams of pure alcohol) or less per week. It's recommended to have at least two to three alcohol free days a week and to spread your drinks over the week.
Here's what you can do to help limit your alcohol intake:
If drinking at home, use a drinks measure to calculate how much you are pouring.
Buy smaller wine glasses, as it will make it easier to drink less and keep track of how much you're drinking. A big wine glass can hold two standard drinks or more.
Try alternating alcoholic and non-alcoholic drinks, such as a water.
Don't get involved in rounds. This means you can drink at your own pace and stay more in control when you're out.
Try keeping track of what you're drinking with a drinks diary – note how much you drink, when, and how you felt afterwards.
Do something else! Try and think of ways to spend time with friends that don't have to involve drinking.